The State of New Jersey has certain rules for establishing a company. Depending on the objectives of your foundation, you must apply for different permits. If you are here, you want to obtain a State of New Jersey Business Registration Certificate.
If you started the process for an organization, you might already be familiar with the Business Registration Certificate. In New Jersey, it is necessary to complete the requirements imposed on business corporations. Applying for one is simple; you need to follow a few steps.
What is the Business Registration Certificate?
The Business Registration Certificate (BRC) is issued by the New Jersey Department of Revenue. It is a mandatory document to prove that you are registered with the institution. In the following image, we will show you a copy of what your certificate should look like.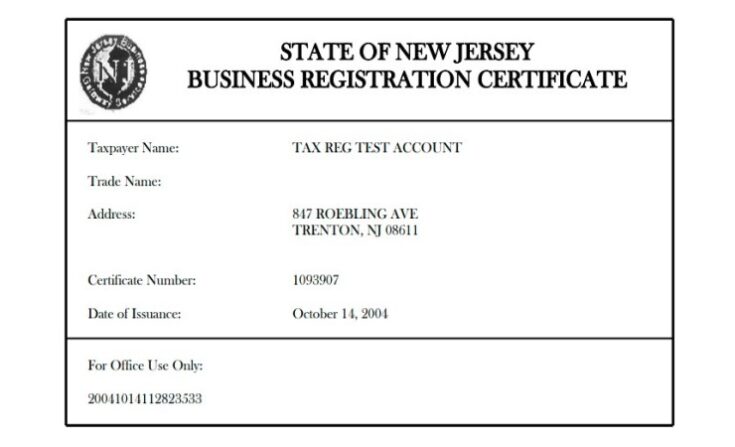 The taxpayer's name on the Business Registration Certificate must be the same one found on the vendor registration and Form W9. Nonprofit organizations must submit proof of 501(c)(3) exemption instead of the BRC.
Why should I apply for the certificate?
The business registration certificate serves two purposes:
Procurement as proof of valid business registration with the New Jersey Division of Revenue
All business owners and allies must provide this document when wishing to do business with the State of New Jersey and other public agencies within the state. Proof of registration is also required when applying for licensure with the Casino Control Commission.
To comply with Chapter 85, PL 2006, outlined in NJSA 54A:7-1.2
The contractor needs to use the Business Registration Certificate if he is an unincorporated construction employer working in NJ and a registered unincorporated contractor applying for proof of certification.
It is important to mention that this certificate is not required for all companies working in New Jersey, only those engaged in doing business with the public sector and the casino services industry.
With this document, the Division of Taxation allows the holder to:
Apply to the State of New Jersey for tax assistance plans and credits

Apply for contracts with the State of New Jersey, the county, municipalities, public colleges/universities, and public schools

Apply for a casino license in New Jersey
How to register in NJ to apply for the certificate?
Registering with the state of New Jersey to apply for a certificate online is easy. Follow these steps to register with the system:
Step One: Complete the requirements
If you wish to start a business on the previously advertised terms, you must follow this URL

https://www.njportal.com/DOR/BusinessRegistration/

Immediately, you will see the requirements to begin the process:
Business Entity Identification Number or Corporate Identification

Federal EIN Number

NJ Business Code

NAICS Code
Please note that you need to provide these documents to obtain a BRC:
You use the Tax Identification Number (EIN) to file your business taxes with the IRS. This can be obtained from your most recent Income Tax Return. If you don't have it, check here:
https://www.irs.gov/businesses/small-businesses-self-employed/apply-for-an-employer-identification-number-ein-online
The NJ Certificate of Formation, established at the New Jersey Department of Treasury, if you founded your business in NJ. The NJ Certificate of Formation is not a substitute for, nor is it the same as, a Certificate of Business Registration. We clarify because taxpayers often get confused and submit the wrong document.
If you have not completed your Certificate of Formation, complete one at:
https://www.njportal.com/DOR/BusinessFormation/Home/Welcome
Step Two: Submit Form NJ-REG
Click on the

"get started

" button, and a form will open, and you must complete the following information:
Business Information

Ownership Information

Business Classification

Contact Information
When you include all this information, it will be in the "review" segment, and you will be notified by email when the process has been completed.
How to apply for the Business Registration Certificate online?
If you are a registered contractor and wish to obtain your certificate, follow these instructions to request and receive the document online:
Just copy and paste this link into your browser of choice:

https://www1.state.nj.us/TYTR_BRC/jsp/BRCLoginJsp.jsp

Complete the form with the following information: Name Control, Taxpayer Identification Number, Business Entity Identification Number, and Certificate Number

Once you have entered the data, click on the option "send"

You will receive the document by email
Where can I check if I already have a BRC?
If you are already registered or do not remember it, and you want to check if you have a Business Registration Certificate, follow these steps:
Copy and paste this link into your browser of choice

https://www1.state.nj.us/TYTR_BRC/jsp/BRCLoginJsp.jsp

In the box, fill in the first four letters of your Business Name and your Employer Identification Number (EIN) from the Internal Revenue Service (IRS)

If your company is registered, you have access to download the certificate immediately
Suppose you already have a certificate from previous years, but you want to check its validity on this page. You only have to enter the Name Control and the Certificate Number and click on "send" in that case, the system will send you an email indicating whether or not the document you have is valid.
For years I have studied American finance regulations. All the information in this blog is sourced from official or contrasted sources from reliable sites.
Salesforce Certified SALES & SERVICE Cloud Consultant in February 2020, Salesforce Certified Administrator (ADM-201), and Master degree in "Business Analytics & Big Data Strategy" with more than 13 years of experience in IT consulting.